Creating new value for society
What is the objective of innovation for companies? JIN believes it should be to create new value for society by changing their core business as well as creating new businesses. Many Japanese companies have valued the country's traditional business approach of "Win-Win-Win," business benefits buyers, sellers, and society. Informed by this approach, many innovations have emerged from Japanese companies to address social challenges and offer new value realization models.
JIN takes full advantage of Japanese companies' approach, ability to create new value, and technological capabilities, to accelerate innovation aimed at solving social challenges in Japan and globally.
To accelerate innovation
Approach

01

"Two-layered innovation management" is necessary to advance existing

businesses and create new businesses.
All companies go through the initial startup stage when founders launch and grow new businesses. The business processes and infrastructure are still in their infancy at this stage, but founders take the initiative in building an innovation ecosystem for new businesses to emerge.
Once startup activities are completed, companies shift their priorities to daily operations, and based on their established business models, business growth is pursued with a focus on minimizing mistakes, stabilizing operations, improving performance, and the operation system (OS) for these activities is installed.
But with the OS aiming for stable operations, it inevitably becomes difficult to create new businesses, products, and services generated by discontinuous innovations.
Companies therefore need to secure new growth engines by installing a new OS that fosters creation of new businesses in addition to steadily operating their existing businesses.
As this issue is not unique to Japanese companies, since 2013, the discussion on international standard for the management system to generate innovation began in the ISO. In 2019, ISO 56002 was published as the core standard of ISO 56000 series, the first international standard of innovation management in the industrial era. JIN has been involved in this process from the beginning, representing the Japan Mirror Committee.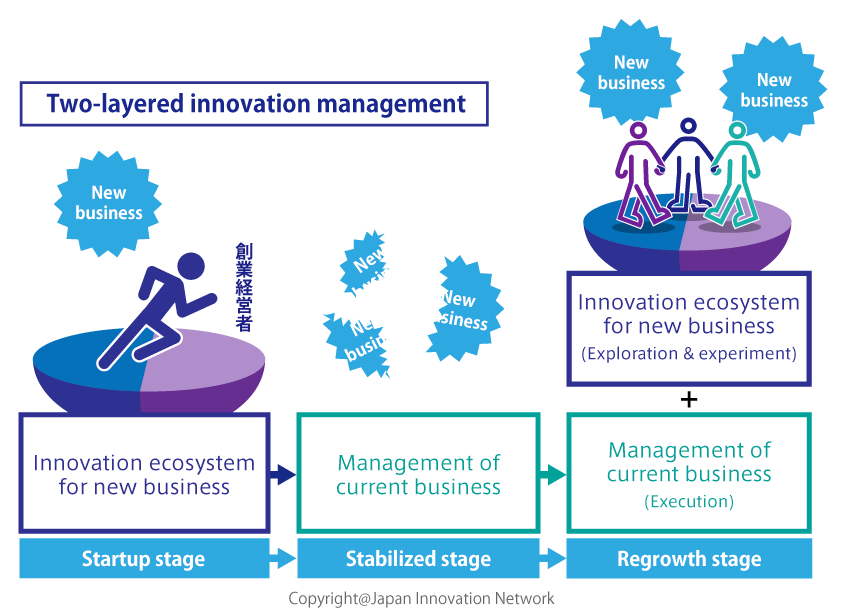 Approach

02

What is a management system to create new businesses?
Building an innovation management system is necessary to constantly innovate and create new businesses. Such a management system comprises five elements of two types: human elements on one side which include corporate executives, innovators and their teams, and catalysts for acceleration support, and management elements on the other side, such as internal processes and infrastructure.
An innovation management system requires all five elements to mutually reinforce one another, as if accelerating innovation from inside acting as the OS that fosters creation of new value. JIN's this approach is completely reflected in the ISO56000 series.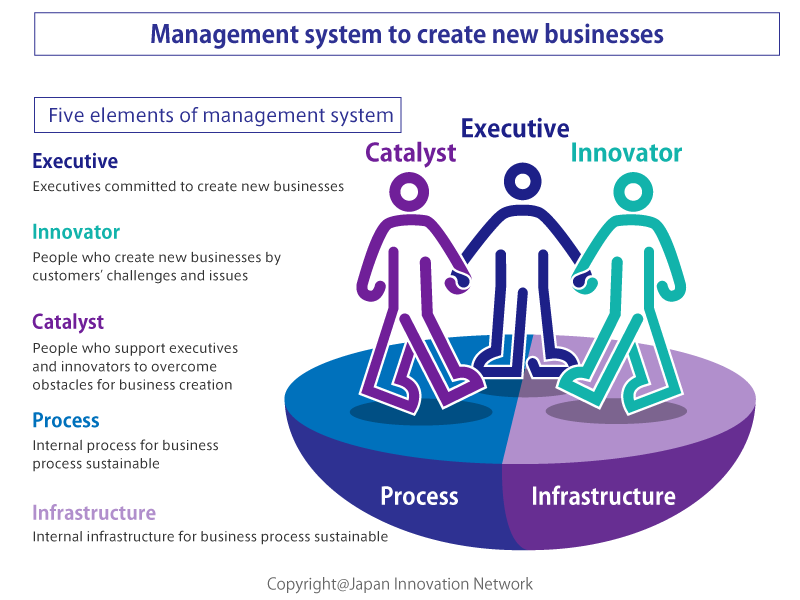 Approach

03

Dealing with "hypocrites" is essential.
When building an innovation management system, companies must face the challenge of dealing with "hypocrites" within their organizations.
The term "hypocrites" refers to people who tend to impede discontinuous innovations and new ventures, not meaning any harm but thinking it is the right thing to do. Unfortunately, the corporate environment has many of these orthodox personalities who respect the status quo and observe precedents, believing that working within the established rules is the very basis of conducting business.
Naturally, innovations cannot emerge from the status quo and precedents. Steps taken to become an innovative company must therefore include an awareness of "hypocrites."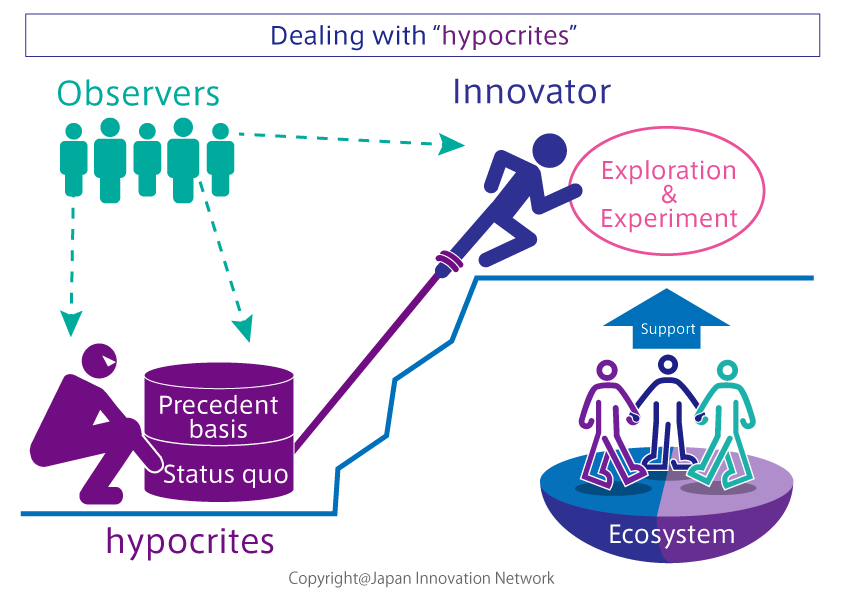 JIN's Innovation Acceleration Framework "Innovation Compass"
JIN has been utilized its own "Innovation Compass" framework in accordance with its own experience in innovation acceleration for large companies since 2013, to help companies identify challenges and areas for improvement in working toward innovation, and provided them with comprehensive support to accelerate innovation projects in cooperation with various external partners.