BENEFITS OF CORPORATE MEMBERSHIP
To help organizations reach their full productive potential as well as improve their creative capabilities, we developed a membership system that fits all needs.
With practical education, powerful networks, and hands-on implementation, Japan Innovation Network will support your new business creation process. Together with your in-house talent of those who create new value and those who act as enablers in the process, we will help you attain tangible results.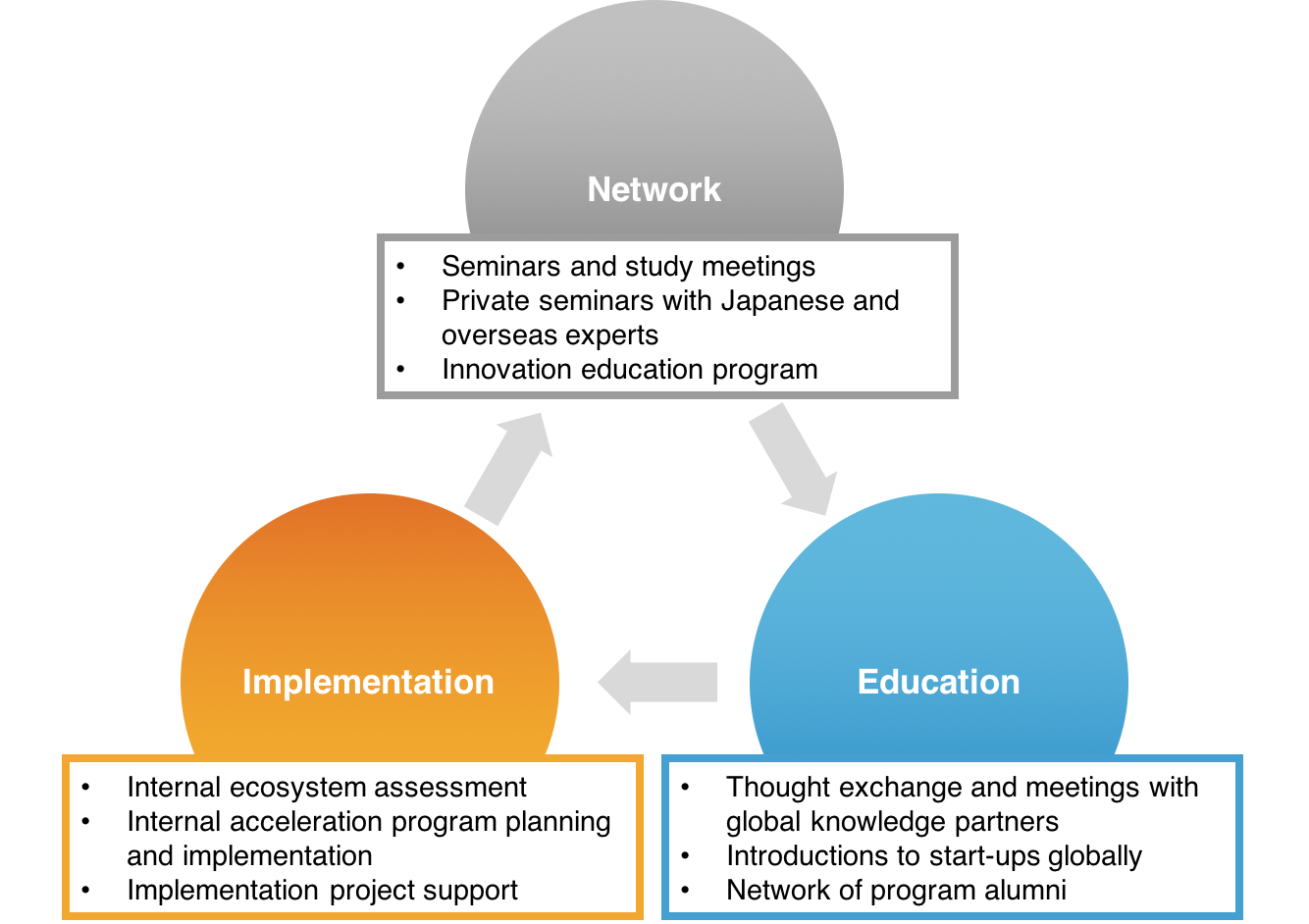 OUTLINE OF THE CORPORATE MEMBERSHIP SYSTEM
Community Member($25,000 annually)

Invitations to regular JIN seminars, study meetings, and private seminars by Japanese and overseas experts

Meetings and discussions with our knowledge partners from all over the world

Best practice sharing and exchange among network members
Implementation Programs for corporate members
<Basic>
JIN Innovation Academy ($15,000 p.p., 5 months)

A tailored program by JIN for your next generation of in-house innovators, managers and those in charge of enabling and accelerating innovation

Networking opportunities with alumni of previous programs who will share best-practice and own experiences

Runs over five months in five installments
<As the program so far has been held only in Japanese, you can find more details on the Japanese language site>
Internal Ecosystem Assessment  (on case basis; ca. 2.5 months)

We offer a simple and detailed analysis of your internal ecosystem, assessing all factors relevant to building a functioning innovation ecosystem

Monitoring of the maturity of the internal ecosystem via fixed term assessments (fixed point observations annually)
<Advanced>
Comprehensive Support Program (on case basis)

Advising in the planning, construction, and management of an internal innovation management system
<Scope and content of advice depends on the circumstances of each individual firm>
Internal Acceleration Program (on case basis)

We support the entire process of the acceleration program from planning to implementation

This acceleration program can be anything, from an ideas contest to an internal business plan competition or an internal lean start-up program
Global Startup-MNC Cooperation Support  Program (on case basis)

Introduction of suitable start-ups globally and Japanese MNCs

Cooperation project support