Announcement
floatmeal, I'm beside you Inc. and Global Mobility Service Inc. have been selected as part of the EWC 100, the world's top hundred startups!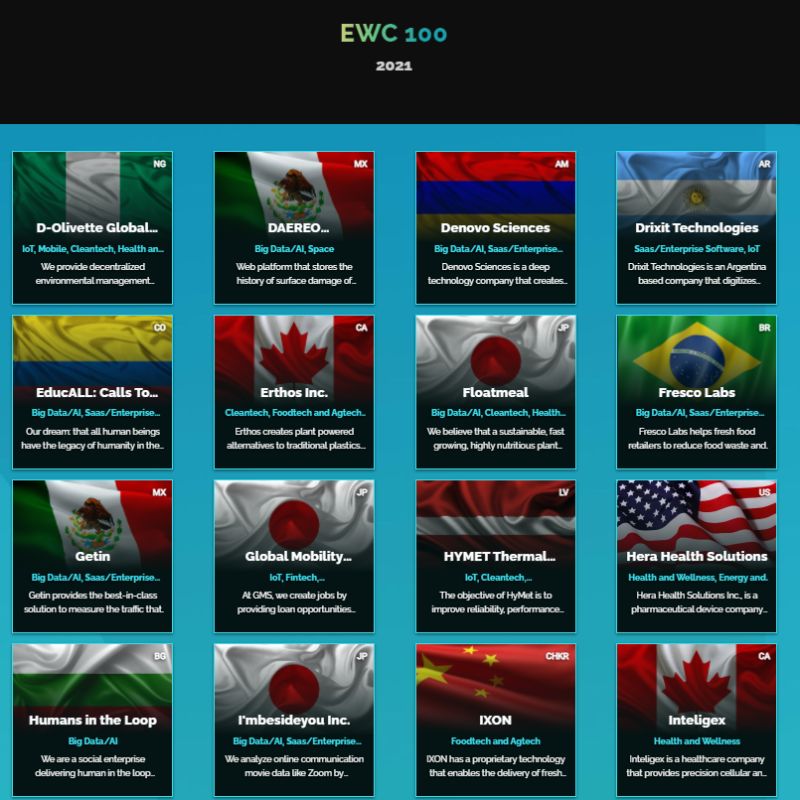 We are proud to announce that the three winners of EWC Japan 2021 have been selected among the world's top 100 startups (EWC100) today, to represent Japan at the EWC Global Finals in the coming month.
On July 27th, Japan Innovation Network held the EWC Japan 2021 finals at the CIC Tokyo, our official partner for the competition. On the occasion, we heard pitches from many promising startups and three winners were chosen by our judges and GEN Japan board members. 
Our Early-stage Winner, floatmeal, introduced to us the company's low carbon technology that enables them to grow duckweed (Wolffia globosa) with 10X higher yield and 11X more protein than traditional soybeans.
Our Growth-stage Winner, I'm beside you Inc., showcased their AI solution which applied to ZOOM and other software, analyzes facial expressions, eye gaze, voice tone, etc to help companies in HR, Mental health, sales, and schools to get grades up during online classes.
And, our Grand Winner, Global Mobility Service Inc., demonstrated how they improve living standards worldwide through their unique digital platform and loan schemes for enhanced mobility
During their time at the acceleration phase after the EWC Japan Finals , the three winners showed great enthusiasm and potential, which was rewarded by the selection of all of them to represent Japan in the EWC Global Finals.
Congratulations to all our winners and, now, Japan representatives. We will be cheering them on and look forward to seeing their future endeavors. We hope to soon post more exciting news about their trajectory!
Please follow the link for more information:
https://platform.entrepreneurshipworldcup.com/display/IN/Meet+the+Startups+2021