Toward Innovation Nation
To make Japan "Innovation Nation" once again, JIN collaborates with partners specialized in innovation human resource development, platforms for BA (place) of innovation, global innovation hubs, and United Nations agencies to implement the following activities: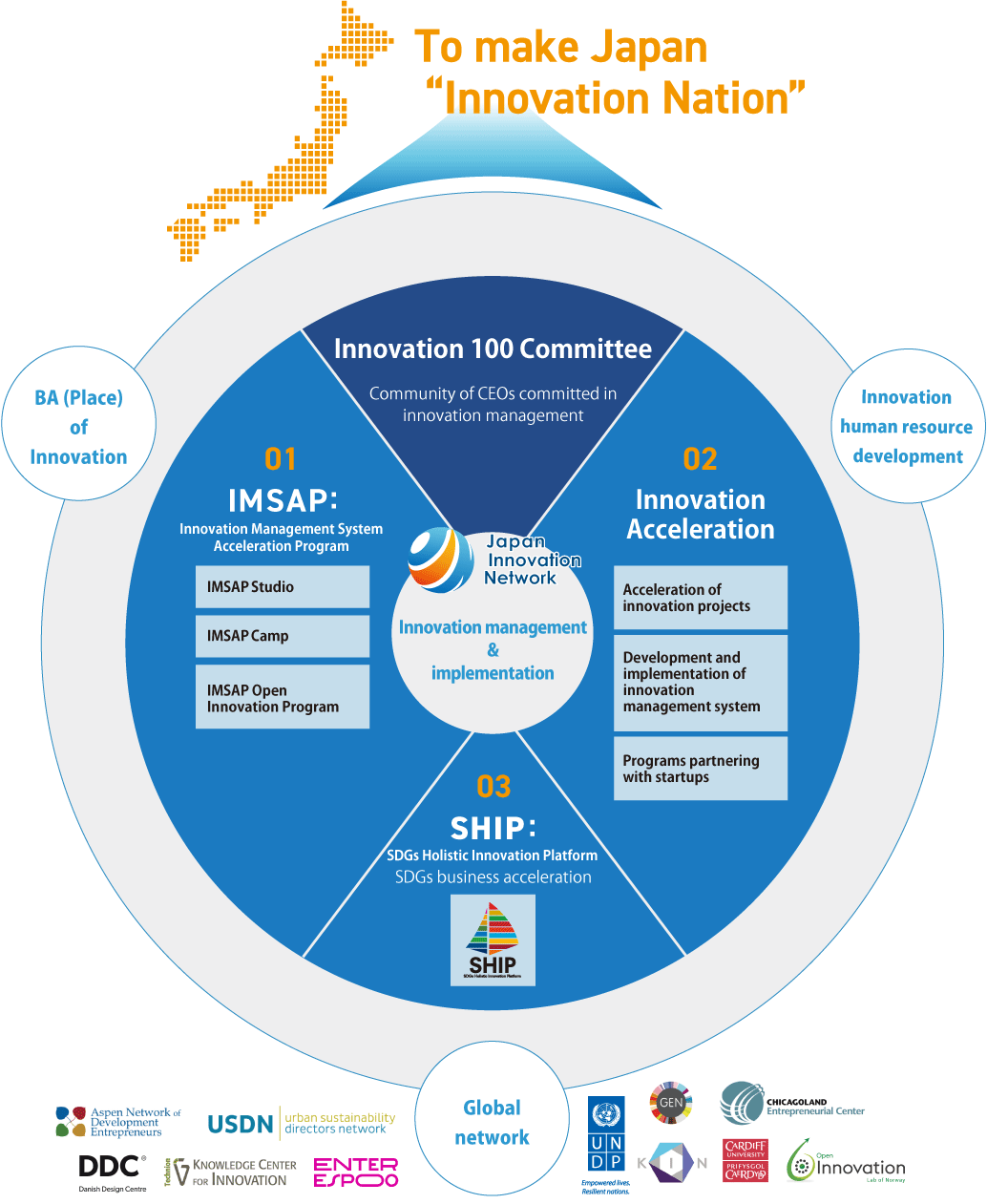 IMSAP
: Innovation Management System Acceleration Program
Innovation Management by international standards We support design, development and operation of
the Innovation Management Systems based on the ISO 56002
Since 2013 JIN has participated in ISO Technical Committee 279 as a representative of Japan to discuss the ISO 56000 series of International Standards on Innovation Management Systems (IMS). We provide the content of the ISO standards, self-assessment tools, and four programs to assist Japanese companies in introducing the IMS.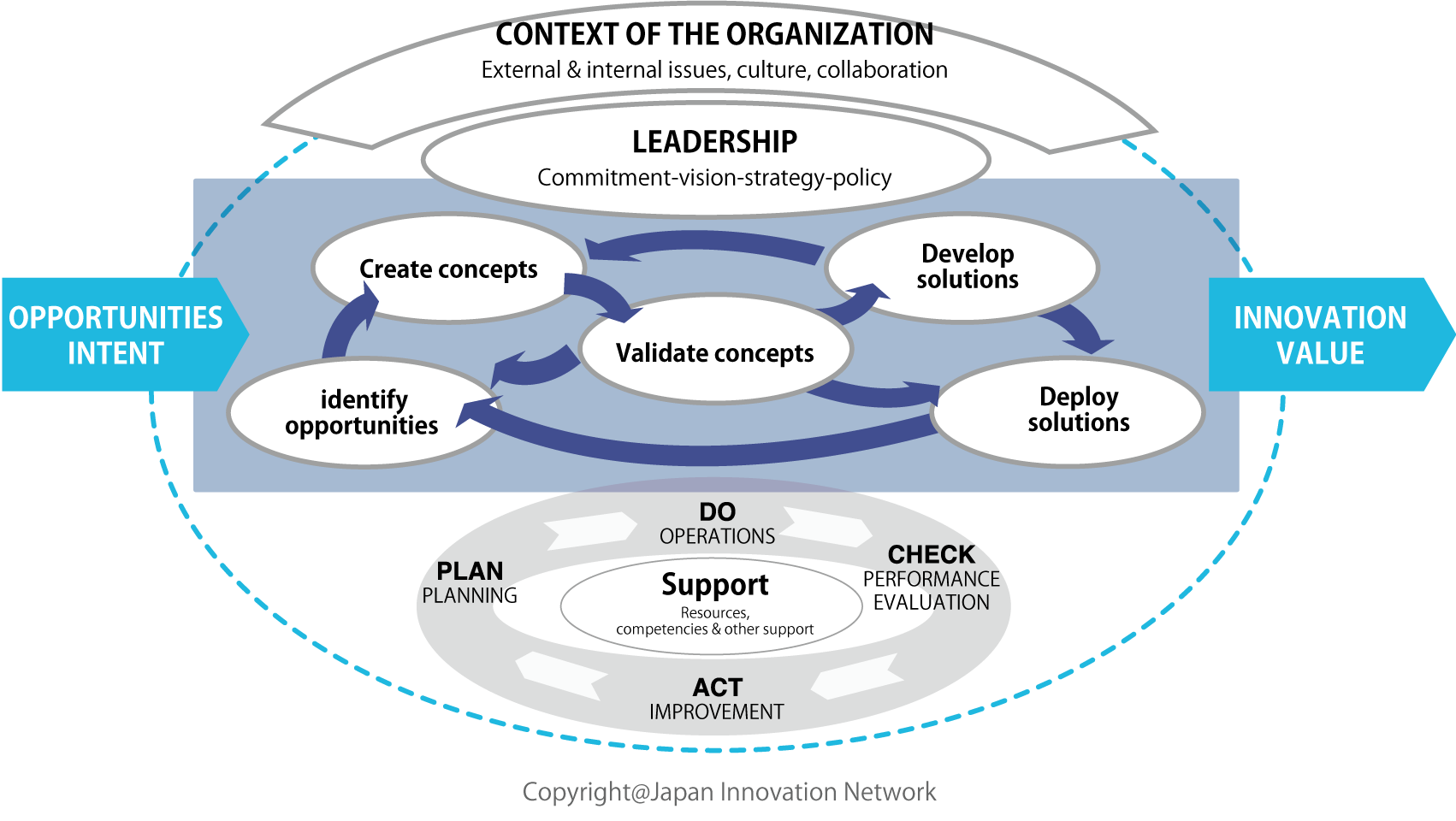 Innovation Acceleration
Strengthening innovation activities systematically

JIN provides individual companies with order-made acceleration support for their innovation activities.
Companies seeking to innovate need to upgrade their operating system (or ecosystem) and build the "Two-layered innovation management" structure capable of both expanding their existing businesses and creating new one. With this management approach adopted in the ISO 56002, JIN offers individual companies the support to accelerate innovation based on the ISO 56002:
Development and implementation of innovation management systems
We support the design, development, and operation of organizations and processes that constantly create innovations in accordance with the International Standard on Innovation Management Systems (ISO 56002).
Acceleration of innovation projects
We use a lean startup method to support practical training for developing business models and commercializing business ideas.
Programs partnering with startups
JIN utilizes its networks with innovation hubs around the world as well as its expertise in startups to support innovation creation.
SHIP:SDGs Holistic Innovation Platform
SDGs business acceleration Open innovation platform connecting companies' know-how and technologies
with SDGs-related issues and needs
As the Sustainable Development Goals (SDGs), adopted by the United Nations for the world to achieve by 2030, are providing opportunities for innovation, JIN and the United Nations Development Programme (UNDP) launched an open innovation platform in 2016 to solve global issues and challenges utilizing Japanese companies' know-how and technologies.
By fully utilizing expertise of its global ecosystem, SHIP provides programs for companies to develop business models that utilize various companies' know-how and resources on the platform, to fully explore and address the challenges defined by the SDGs.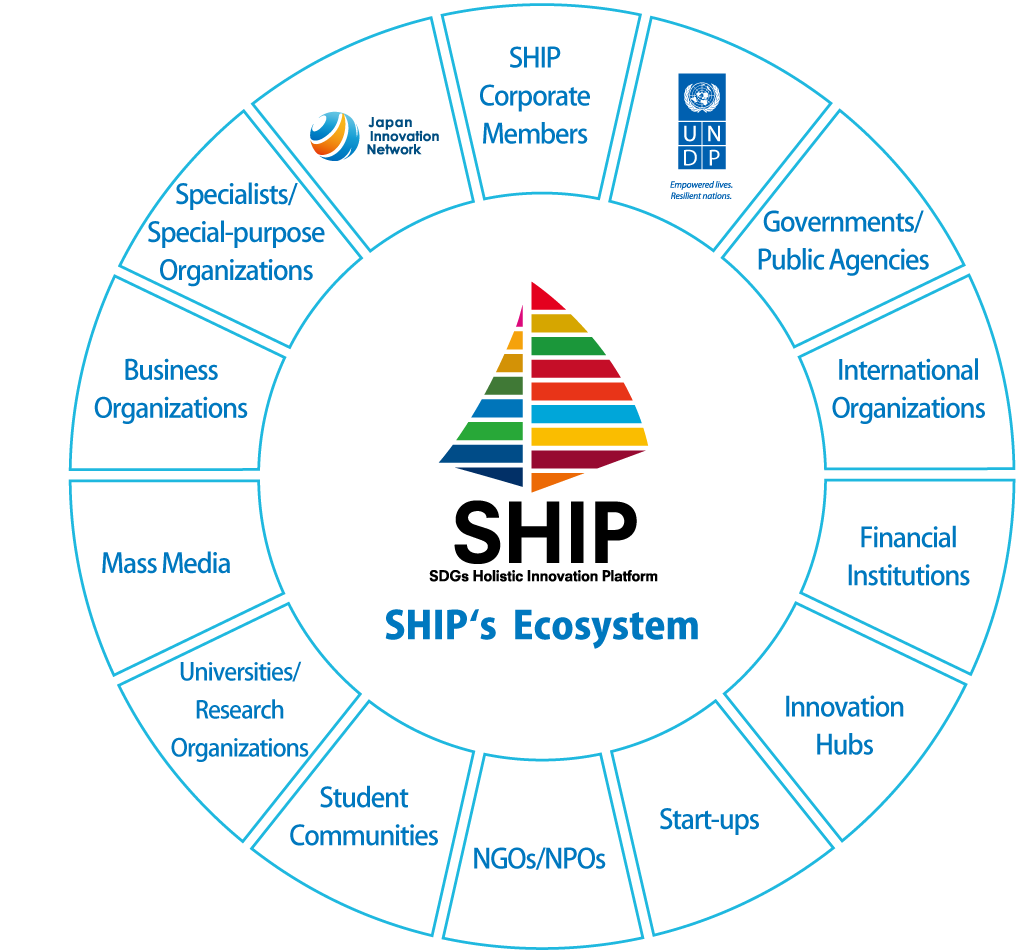 Innovation 100 Committee
Whose job is it to create innovation in companies?

Community of CEOs committed in innovation management
To challenge the widely held belief that large companies cannot be innovative, the Ministry of Economy, Trade and Industry, Japan Innovation Network, and World Innovation Lab (WiL) formed the Innovation 100 Committee in 2015, with its first-term members consisting of 17 CEOs from major Japanese companies who are committed in pioneering efforts for innovation.
With Japan's conventional model for success viewed as outdated and the country buffeted by the waves of the Fourth Industrial Revolution, the committee has raised awareness that to cope with the changing environment, Japanese business leaders need to take the initiative and act with courage and determination to indicate the direction their companies should take. The committee has been working in its fourth term with the ambition to make Japan "Innovation Nation" once again.