Activity report
JIN x Hito Institute Online Forum held on April 28, 2020, "What is happening in Silicon Valley's Innovation Community under the Coronavirus Pandemic?"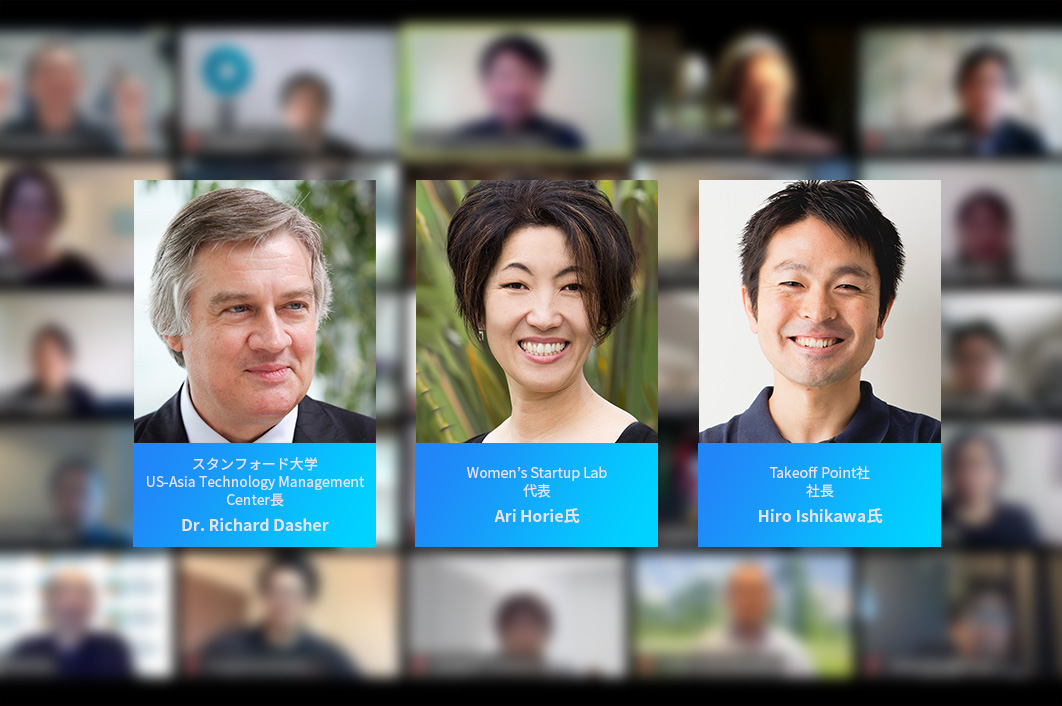 The new coronavirus disease COVID-19 is raging around the globe, having an extreme impact on the world's economies and societies. How is the innovation community in Silicon Valley coping with this crisis?
Japan Innovation Network (JIN) held an online forum with Hito Institute, which aims to foster innovative leaders who can take on global roles, linking Tokyo and Silicon Valley. Hito Institute's founder, Ari Horie, is the Founder & CEO of Women's Startup Lab and has been a board member of JIN since October 2019.
How can Japanese companies weather the COVID-19 crisis and continue implementing innovations? We invited the director of the US-Asia Technology Management Center at Stanford University, Dr. Richard Dasher, who is an expert on innovation systems both in the US and Japan, and Takeoff Point's President Hiro Ishikawa, who moved from Japan to Silicon Valley five years ago to start his company, which supports startups and Japanese companies in launching new businesses.
Hiro Ishikawa explained that stores and companies in Silicon Valley are pursuing completely rational approaches, rather than prioritizing business continuation, citing the case of a 75-year-old restaurant that closed its doors just one week after the stay-at-home order was issued. The owner apparently thought it would take too long for the economy to pick up. Ishikawa also spoke about a sports club that began selling fitness equipment online after such facilities were ordered to suspend operations. Its staff also began teaching customers how to use the equipment and providing workout programs. This example showed how some businesses have swiftly pivoted, making the most of their strengths to meet people's needs.
Meanwhile, Dr. Dasher described what he learned from the COVID-19 outbreak, specifically that companies cannot always control the pace of innovation. He realized that innovation is much more than just adopting new technology, but we should use technology to understand and strengthen basic human relationships in business.
Ari Horie emphasized what she had learned from her experiences, declaring: "Diversity is the driving force of innovation, and innovation is the driving force of change." She voiced that we should get on with business by following our hearts, especially at times like this. She encouraged participants to execute plans they have pondered over and over without ever setting them into action, or to act on ideas they have not been able to convince others to implement.
JIN will continue to advance its network with Silicon Valley to propose new ideas to Japanese companies while working towards establishing an innovation community that encompasses Japan and Silicon Valley.