Activity report
JIN takes the stage at the "Pioneer the Possible Summit" hosted by the Embassy of Sweden in Tokyo and Business Sweden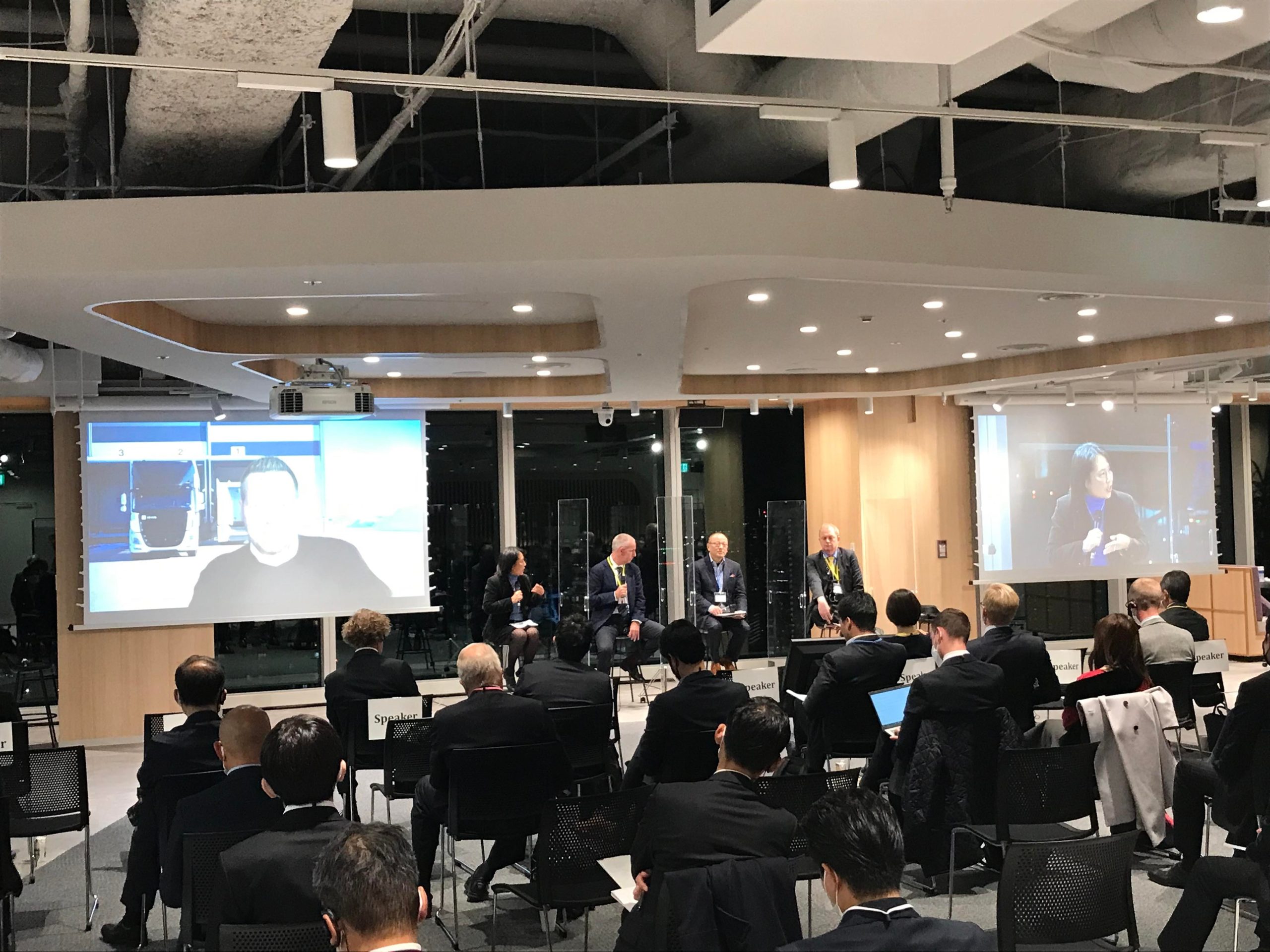 Sweden is a world leader in innovation and sustainability, and Japan Innovation Network (JIN) has been working closely with the Swedish public and private sectors since its establishment in 2013.
As part of these efforts, Ms. Ai Ohara who leads the operation of the SDGs Holistic Innovation Platform (SHIP), a joint initiative of JIN and the United Nations Development Programme (UNDP), spoke at the "Pioneer the Possible: Sweden-Japan Sustainability Summit" hosted by the Embassy of Sweden in Tokyo and Business Sweden and held in Tokyo on December 5, 2022. More than one hundred people from the Swedish and Japanese community, representing governments and private companies gathered at AstraZeneca's Tokyo office, one of the Summit's sponsors, where the Summit was held.
The Summit began with opening remarks by Mr. Takafumi Horii, President of AstraZeneca Japan, H.E. Pereric Högberg, Ambassador of Sweden to Japan, and Mr. Ryuji Satomi, Parliamentary Vice Minister of Economy, Trade and Industry of Japan.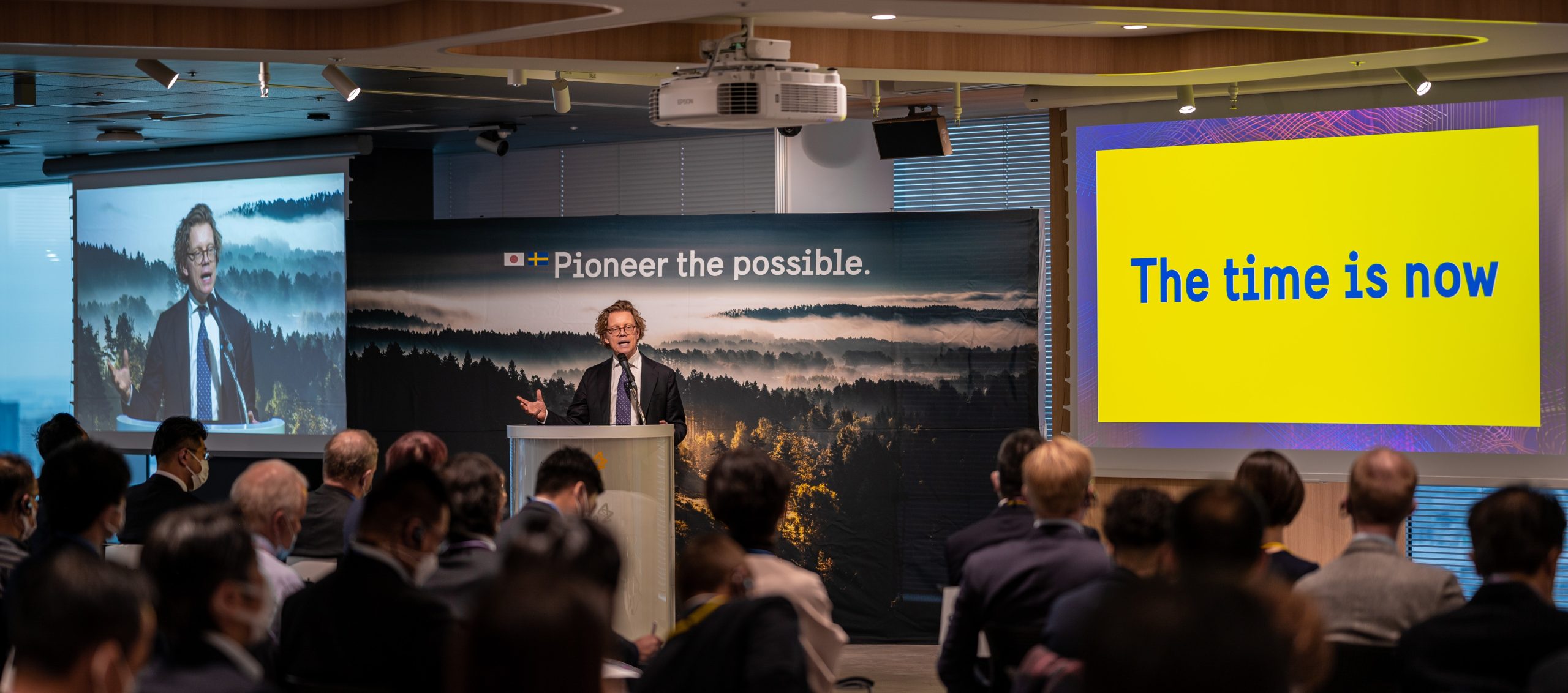 H.E. Pereric Högberg, Ambassador of Sweden to Japan
Following the opening remarks, Mr. Thomas Kåberger, Executive Board Chairman of Sweden's Renewable Energy Institute and Chair of the Swedish Delegation for Circular Economy delivered an insightful keynote speech on achieving a sustainable, carbon-neutral society through innovation and renewable energy entitled "The time is now".
Subsequently, Ai Ohara delivered the second keynote speech: "Innovation towards the Sustainable Society". Throughout her speech, she highlighted the need to start innovation process with issues experienced by people facing sustainability challenges in their lives, before turning them into sound business models based on experimentation and a trial-error methodology. She explained to the audience, how this methodology was standardized in the international document ISO 56002, which is currently being applied by several multi-stakeholder projects in Japan and various countries, to concretely solve SDGs-related problems and build a more sustainable society.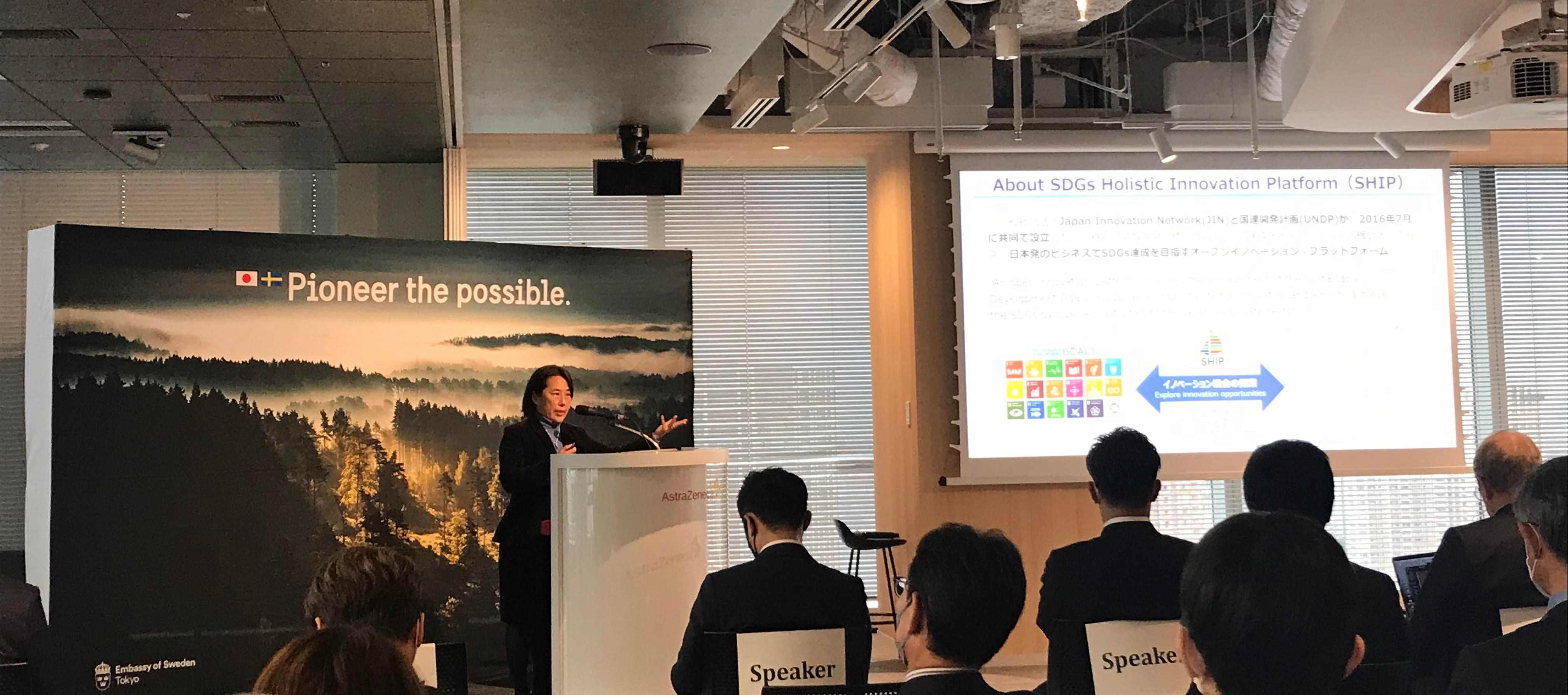 Ai Ohara, Director, Japan Innovation Network
Participants were then divided into break-out groups to discuss and brainstorm around the topics of "circularity," "mobility," and "energy". The results of these exchanges were presented by representatives from Tetra Park, Astra Zeneca, Ericsson and Volvo Cars.
To close the event, Ai Ohara took the stage again as moderator, to drive discussions on concrete activities to achieve the 2030 Agenda and carbon neutrality by 2050, between Mr. David Hallgren, General Manager at Einride, Mr. Luca Orsini, President and Representative Director at Ericsson Japan, Mr. Kenichiro Wada, President and founder of the Japan Electrification Research Institute and Mr. Tomas Kåberger.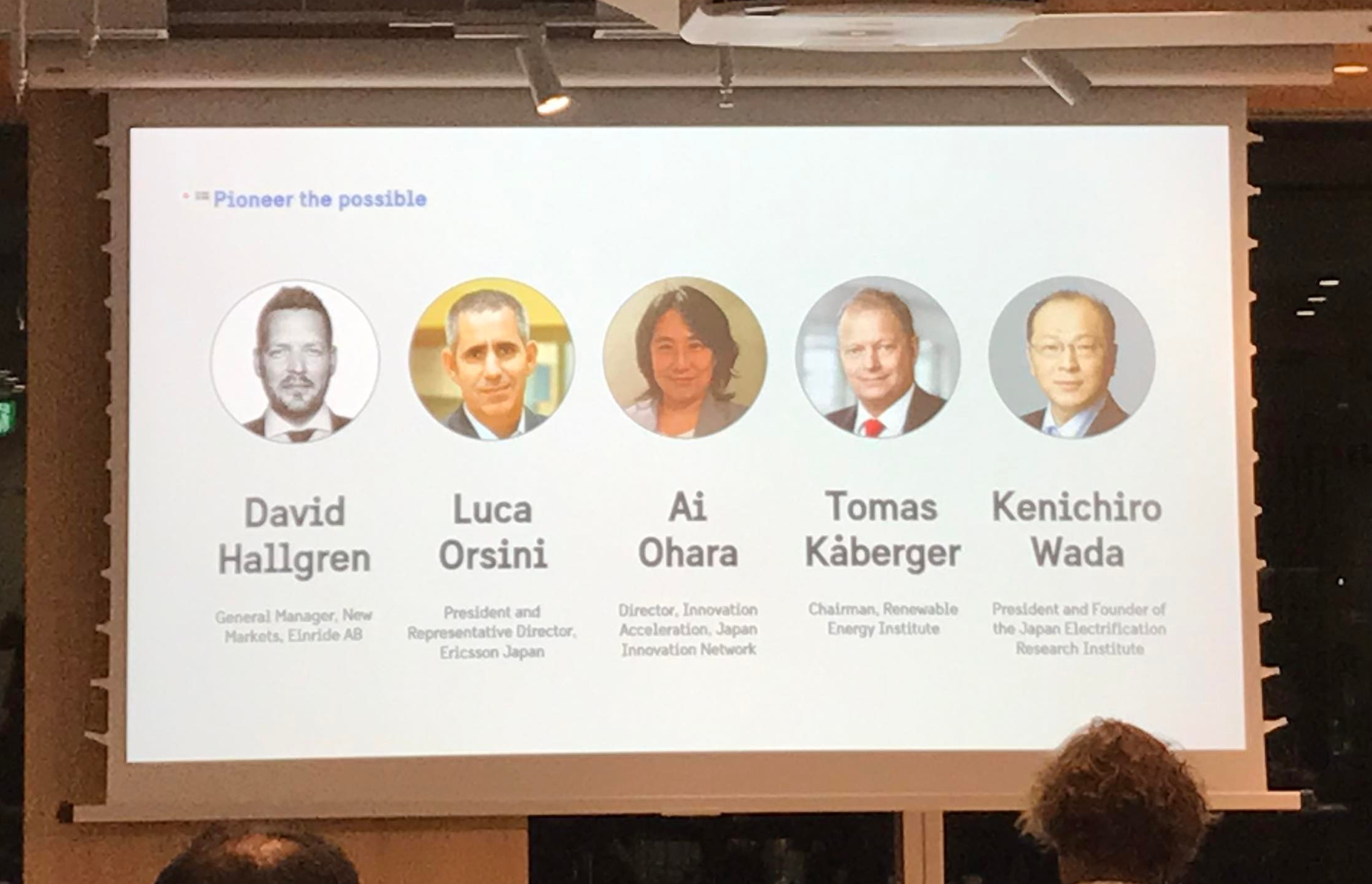 Panelists of the panel discussion
The panelists shared how their organizations are tackling these issues and suggested various ideas on how Sweden and Japan can take concrete actions in cooperation with each other in light of the current difficult international situation. The summit concluded with all the participants' strong determination that "The time for action is now".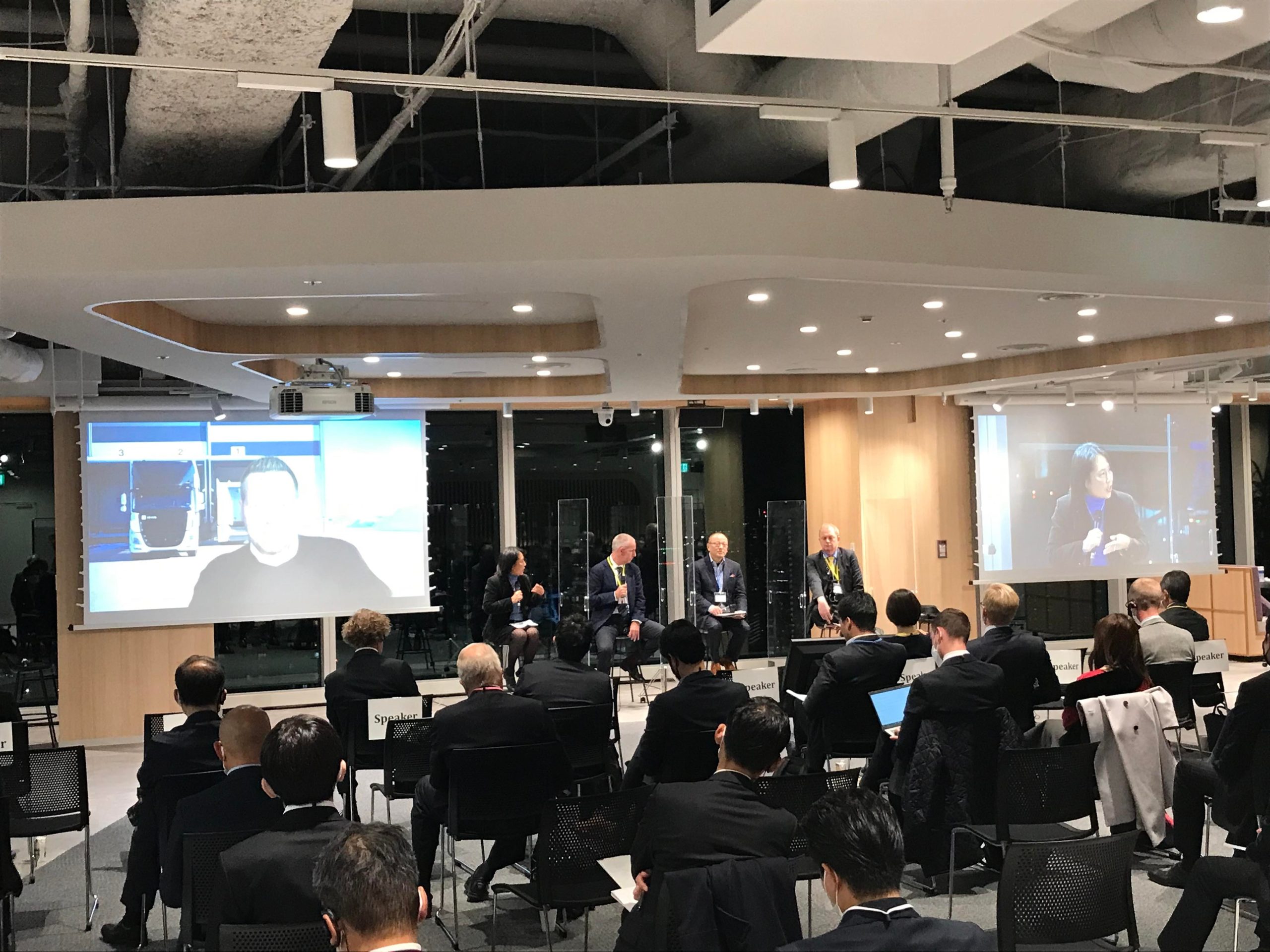 JIN will continue to work closely with the Swedish government, innovation organizations and experts to incorporate their cutting-edge initiatives into innovation practices in Japan, and to accelerate innovation in Japanese companies and the development of their innovation management systems.