Announcement
JIN will launch a collaborated training program Sweden Studio with Amplify (Sweden) in 2021, June:Innovation Management Professional Training Program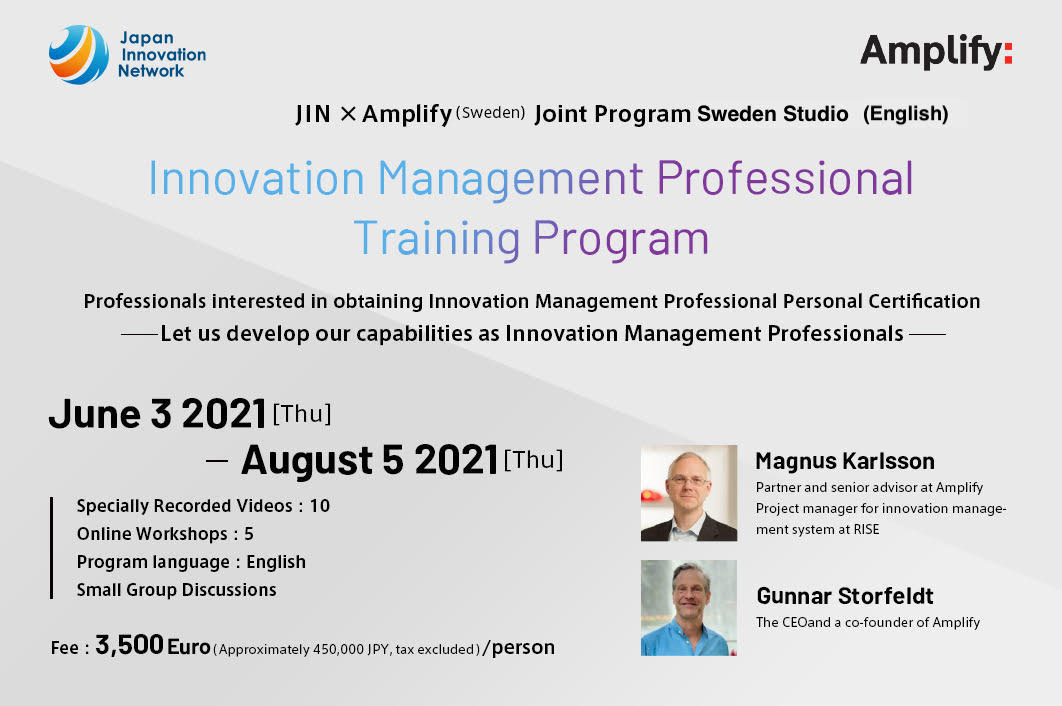 The world's first international standard ISO56000 series for innovation management systems (IMS). It is the "management OS" necessary for companies and organizations to promote innovation activities.
Japan Innovation Network (JIN), the representative of Japan at the technical committee since 2015, will launch a joint innovation management professional training program in June 2021 with Amplify, a Swedish innovation management consultancy firm.
This program provides you with the foundation, the necessary knowledge about the tools, processes and systems needed to manage innovation professionally, after which you will gain confidence as an innovation management professional as well as being better prepared to obtain Sweden's personal certification*.
* Personal Certification: :A personal certification of innovation management professionals provided by the certification arm of RISE Research Institutes of Sweden. It is the first personal certification program in the world of its kind, using a transparent and independent process according to ISO 17024.
Innovation Management Professional Training Program Overview
Program date: June 3rd 2021 ~ August 5th 2021
Kick-off June 3rd(Thu)  16: 00-17: 00
1st WS June 17th(Thu) 16: 00-18: 00
2nd WS July 1st(Thu)  16: 00-18: 00
3rd WS July 15th(Thu) 16: 00-18: 00
4th WS July 29th(Thu) 16: 00-18: 00
5th WS August 5th(Thu) 16: 00-18: 00
Place:Online workshop
Program language: English
Recommended Audience: Mid-level professionals in the fields of;
innovation management planning
innovation strategy planning
innovation project management and operations.
Content:
Provides knowledge, tools and methods required to be an innovation management professional based on ISO 56002 and the 8 Innovation Management Principles
10 Specially recorded videos
5 Live online workshop sessions
Others: Provide articles and videos that are helpful to understand innovation management
Main lecturers:Gunnar Storfeldt, Magnus Karlsson
Price:EUR 3,500(approx.450,000JPY(tax exclusive))/person
For more details:click here
For Inquiry/application:imptp@ji-network.org