Press release
Announcing Partnership with RISE- Research Institutes of Sweden AB to foster innovation:Sharing innovation know-hows and nurturing innovative human resources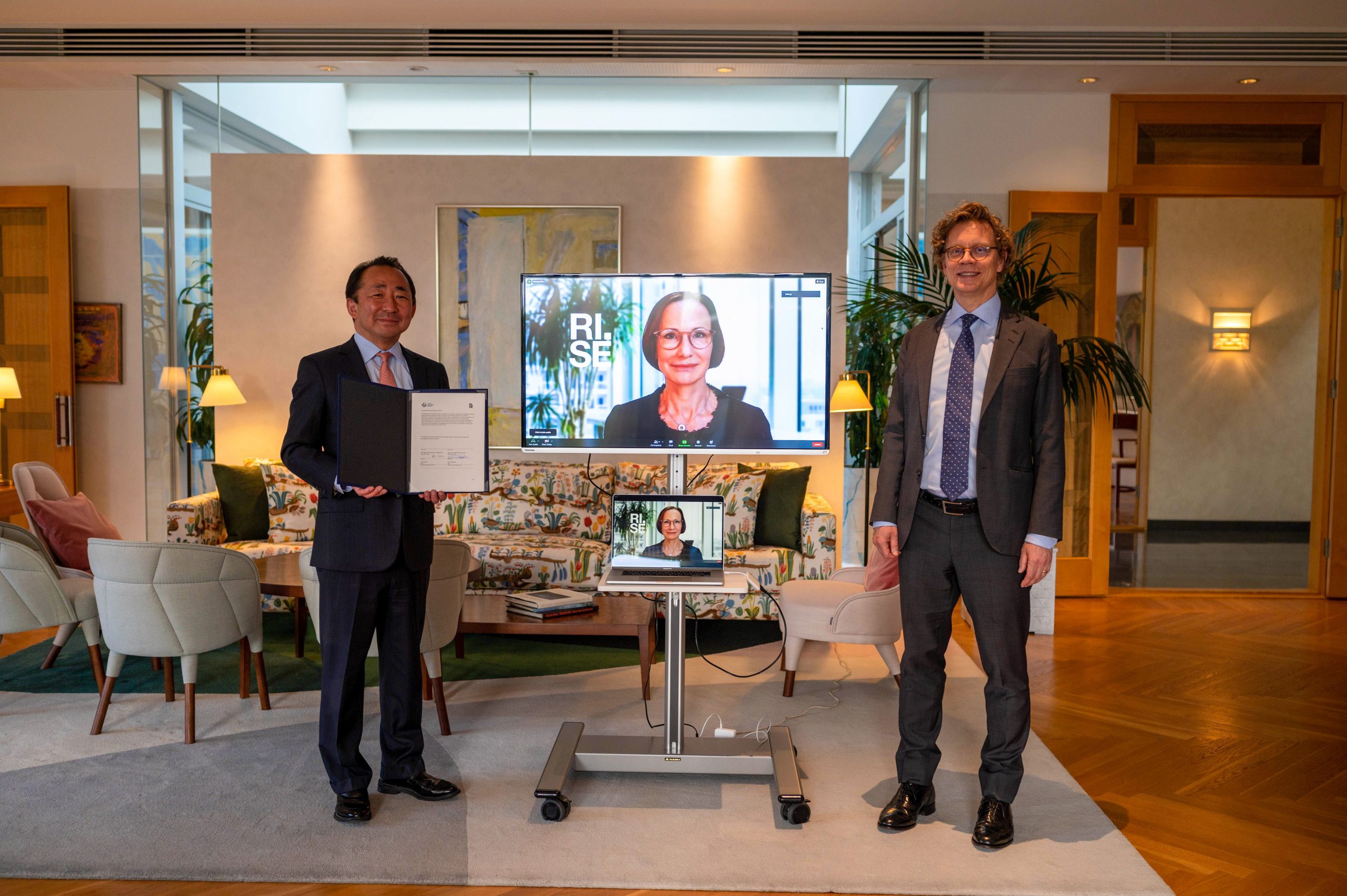 H.E. Pereric Högberg, Ambassador of Sweden to Japan (on the right side of the screen), RISE CEO Pia Sandvik (on the screen), and JIN's CEO Hiro Nishiguchi (on the left side of the screen)
Japan Innovation Network (JIN) and Research Institutes of Sweden AB (RISE) have agreed to deepen their collaboration in the field of innovation. The signing ceremony was held on May 10, 2021 at the Embassy of Sweden in Minato-ku, Tokyo, in the presence of His Excellency the Ambassador of Sweden, Pereric Högberg.
Sweden which regularly tops the SDG achievement rankings, is also an overwhelming leader in innovation management .With a population of 10 million, the country is less populous than Tokyo, yet it is home to many major multinationals corporations with a unique and dominant position in the world, such as Volvo, Ericsson, and IKEA, as well as one of the most vibrant startup ecosystem around the globe.
Under this agreement, JIN and RISE will carry out the following activities in the future:
1. Building an innovation ecosystem connecting Sweden and Japan:
RISE is at the core of Sweden's innovation ecosystem, including the national project Ignite Sweden. Through this agreement, JIN and RISE will build a direct reciprocal channel between the two innovation ecosystems of companies and organizations in both countries.
2. Sharing of know-how and knowledge related to the construction of innovation management systems (IMS):
Sweden is at the vanguard of innovation management by developing an integrated approach from human resource development to building a management system. JIN and RISE will deepen the collaboration between the two countries' innovation ecosystems by mutually sharing their experiences.
3. Expanding RISE's Innovation Management Professional Certification to Japan:
Sweden is accelerating innovation in its organizations through the professional certification in innovation management developed by RISE, a world leader in this field. JIN will spread the certification in Japan as well, in collaboration with RISE.
The signing ceremony was jointly held online by the Embassy of Sweden and RISE officials, and was attended by His Excellency Pereric Högberg., Ambassador of Sweden to Japan, Pia Sandvik, CEO of RISE, Carsten Grönblad, Trade Commissioner, Michael Jacob, Innovation and Science Counsellor, and other RISE officials. We are very grateful for the large attendance.
About RISE
RISE- Research Institutes of Sweden AB is a state owned research institute that forms the core of Sweden's innovation ecosystem in industry-academia-government-private partnerships, and which also promotes collaboration with industry-government-academia around the world. RISE is also a world leader in the field of innovation management systems, having created the world's first individual certification for innovation management professionals in accordance with ISO 17024.
https://www.ri.se/en
About JIN
Japan Innovation Network (JIN) is an accelerator challenging the widely held belief that large companies cannot be innovative. JIN was established in July 2013 primarily by members of the Frontier HR Research Committee* of the Ministry of Economy, Trade and Industry (METI) to implement the research committee's proposal to adopt a "two-layered management" system, that pursues both efficiency and creativity. The organization was established with the mission to foster innovation management and make Japan an "Innovation Nation" (See Innovation 100 Committee,). It operates the Innovation Management System Acceleration Program (IMSAP), supports specific innovation acceleration projects and founded the SDGs Holistic Innovation Platform in collaboration with the UNDP.
https://ji-network.org/en/
Sweden Studio: Introduction of Innovation Management Professional Training Program
In June 2021, JIN and Amplify, an innovation management professionals group from Sweden, will jointly launch a training program to prepare participants for the RISE Individual Certification for Innovation Management Professionals. The program is designed to provide aspiring innovation management professionals with basic knowledge of the methods, processes, and systems required to manage innovation activities.
Program details:https://ji-network.org/en/info-en/03/4497